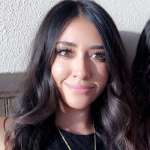 Scarlett Palmer |
Warm, sunny weather is right around the corner. What better way to take advantage of the sun than going on a picnic? Keep reading to see some of my favorite Mi Rancho picnic-friendly recipes.
To make this salad, you will need washed and chopped romaine lettuce, shaved parmesan, cotija cheese, roasted pepitas (pumpkin seeds) and your favorite tortilla strips. You can use Mi Rancho's Organic Corn Tortillas to make the strips. I recommend using the Organic THINcredibles Thin Corn Tortillas as they fry up in seconds. To make the dressing for this salad, blend green chiles, garlic cloves, lime juice, mayo, pumpkin seeds, olive oil, fresh cilantro, salt and pepper. The dressing is key to the flavor of the salad. Once the dressing is finished, drizzle it over your salad and finish by garnishing with crumbled cotija cheese, parmesan cheese, pepitas and strips. This Mexican twist on the classic Caesar salad is sure to leave you feeling refreshed.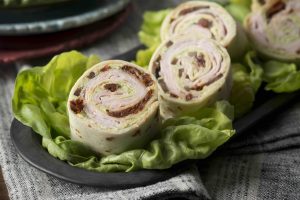 These pinwheels are perfect to make the day before your picnic day. Start by making your pesto spread. To make the spread, just blend cream cheese, pesto and parmesan cheese in a medium bowl until mixed thoroughly. Using Mi Rancho's Simply Authentic Burrito Flour Tortillas, spread ¼ of your pesto mixture evenly across the tortilla, edge to edge. Then, sprinkle ¼ of the sun-dried tomatoes and ¼ of the black olives across the tortilla. Leave about 1-inch from the edge of the tortilla free from these ingredients, as the pesto will act as a seal. Layer ¼ lb. of the turkey across the tortilla. Finally, tightly roll the tortilla and carry in your favorite air tight container. These are so small that you can snack on these through-out your day!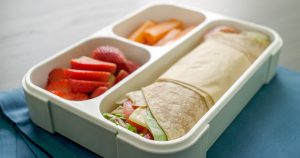 This sub wrap is your typical sub that you can find at your local sandwich shop all stuffed into Mi Rancho's Organic Whole Wheat Tortilla. You can stuff your wrap with any of your favorite lunch meats and ingredients. This recipe includes thinly-sliced Deli turkey, pepper jack cheese, tomato with butter lettuce leaves. Assembling this wrap is super easy. Simply lay your whole wheat tortilla out flat, cover your tortilla with your spread leaving ¼ inch free on the edge. Then, lay your lettuce leaves across pressing them into the spread. After that, layer the turkey and cheese, keeping it flat so that there is enough room to top with tomato, onion and sprouts. Finally, roll tightly into a wrap. To make this recipe picnic friendly, simply roll the wrap in parchment paper. This will ensure that it remains fresh and will allow the ingredients to stay in place. To transport, place the wrap in an air tight container until you are ready to enjoy!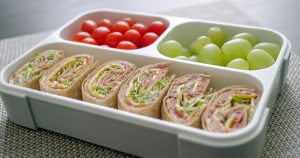 Much like the Pesto Turkey Pinwheels, the assembling process is quick and easy. These are also made on Mi Rancho's Organic Whole Wheat Tortillas. In a small bowl, mix cream cheese, mayo and yellow mustard and mix until everything is well combined. Then, lay your whole wheat tortilla out flat and cover with the spread making sure to go completely to the edge. Add a thick layer of roast beef and two slices of cheese. Top it with onions, sprouts and pepperoncini to taste. Then, finish it off by rolling tightly and place in a container safe for travel to your picnic site!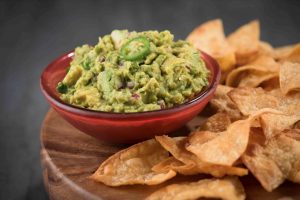 We all love chips and dip. This combo is perfect to snack on while enjoying some sun. Follow Mama Carol's step by step instructions on how to make chips using Mi Rancho's Organic THINcredibles Thin Corn tortillas.
To make the guacamole, you will need four ripe avocados, ½ cup of chopped cilantro, the juice of two limes, ½ red onion, finely diced and two jalapeños or serrano chiles with veins and seeds removed that are diced finely. Depending on how spicy you want your guacamole, add or remove the amount of chiles. Mash the avocados until smooth or to your desired consistency, then add the rest of the ingredients and mix until everything is well incorporated.
Let's all take some time this spring and head outdoors and enjoy some yummy food!
Share with us your favorite picnic spots by tagging us on Instagram, Facebook, and Twitter!