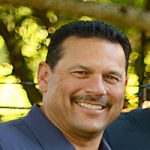 Manuel Berber |
2019 has proven to be a very special year for the Berber family. As this year marked Mi Rancho's 80th Anniversary and the 65th Anniversary with the Berber Family at the helm, we took the time to commemorate this momentous occasion.  The holidays always seem to evoke memories as I begin to reminisce on years past and count my many blessings. 
I'm reminded of those we've lost who meant so much to me and Mi Rancho, like my parents Bob and Ofelia. Though they've both past, their memory and mark on Mi Rancho's culture is still felt every day.  I take the time to look around at those we still have by our sides. It isn't lost on me how lucky I am to work beside my wife, Carol, and our two sons, Andrew and Alex, every day.  
As we continue to grow and new people join the Mi Rancho family, it strikes me how special it is for a large group of people from different backgrounds can come together and work towards a common goal. We all love tortillas work hard to make products that we want to eat and share with our loved ones.  I'm extremely grateful for the entire Mi Rancho team and look forward to all that we'll accomplish together in the coming year.
We wish good tidings and happiness to all our customers and vendors that have stood by our side for many years. For those just experiencing Mi Rancho's pure tortilla joy as our retail and foodservice products reach new regions, I thank you for your support.  We would not be where we are today without you.
Feliz Navidad a todos. Merry Christmas to everyone. 
Gracias.
– Manuel Berber