Alexa Shields |
After seventeen weeks of regular season football and several rounds of playoffs, it all comes down to one game to crown the World Champions. That's right – it's time for the big game. Millions of people will gather in their living rooms around the television to watch one game. Whether you're there for the football, the half-time show, to rate the commercials, or it's simply an excuse to get together with friends, one common expectation remains: FOOD! Millions of pounds of food will be consumed on this day of pure indulgence. I for one am no exception and plan to eat my fair share of delicious snacks.
This year I am hosting a party, so I thought I'd share some of the best snacks for the big game, all of which feature Mi Rancho Tortillas, as well as some of my favorite drinks. No matter the final score, you'll be a winner among your friends with these dishes a part of your spread.
Elote (Mexican Street Corn) Dip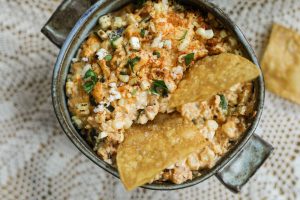 I love elote, or Mexican street corn, in almost any form.  This common dish has grown in popularity lately as appetizers or side dishes but isn't ideal to serve in your living room because it can get somewhat messy.  That's why I created this deliciously cheesy dip full of fire-roasted corn, poblano chiles and onions.  I serve them alongside homemade tortilla chips that I make from Mi Rancho Organic THINcredibles Thin Corn Tortillas.  For step-by-step instructions on how to make elote dip, check out this video.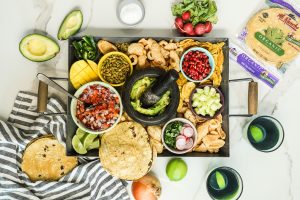 Avocados are in season February through September, which makes this the perfect time to fully embrace the avocado and make it the feature of a dish. I like to serve hot tortillas with mashed avocado or guacamole in a large molcajete, surrounded by a bunch of different toppings like plantain chips, pomegranate seeds, pepitas (pumpkin seeds), chicharron (fried pork rinds), radishes, mangoes, and roasted corn. Honestly, the potential toppings are endless because avocados make everything better. Offering a wide selection allows guests to embrace their creativity with a hands-on, make-your-own station.  Plus, I can bring color to the spread, and offer hearty options for vegetarian and vegan guests.
Baked Crispy Chicken Taco Sliders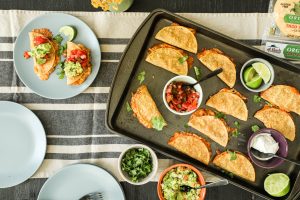 Mini tacos are always a fun option to offer because they're only a couple of bites of goodness and don't make a mess. These baked crispy tacos are simple but so tasty!  I make multiple trays of them in advance and just reheat as I need to restock the tray (which happens often because they're such a big hit).  Plus, they're very kid-friendly because they're oozing with beans, cheese, and chicken and are made with Organic Taco Sliders, fitting perfectly into tiny hands.  It's important to have options that children and adults will enjoy so that everyone stays happy.
Baked Green Chile Shredded Chicken Flautas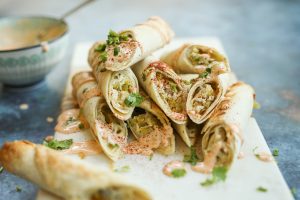 I love a good flauta on game day. Scarlett's baked green chile shredded chicken flautas have quickly become a household favorite, so they're a must serve on game day. Mi Rancho Non-GMO Soft Taco Flour Tortillas bake to a beautiful golden brown and are so crisp and flaky with very little fat.  They're so simple to make in advance and warm before serving.  I use shredded rotisserie chicken and canned green chiles, so it's truly just an assembly process.  The chipotle lime crema is so good that I always make a double batch because everyone is a bit liberal when serving themselves. I can't say I blame them for that.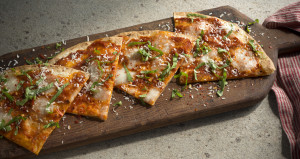 Skip the delivery pizza and make your own on Mi Rancho Simply Authentic Burrito Flour Tortillas.  The tortillas are flaky and buttery, making for a scrumptious thin pizza crust. Any toppings work, so assemble in advance and then pop in the oven as needed. They're great for guests to pull a slice or two as they come out piping hot. Good luck trying to keep that tray stocked, because they always seem to go quickly.  My favorite is the green pizza with pesto, mozzarella, and arugula, but you can't go wrong with a classic pepperoni.
Dips just go hand-and-hand with game day. There's nothing simpler to make than Mama Carol's Queso Fundido. You simply bake Oaxaca cheese with either spicy chorizo or green chiles for a simple and easy dip to add to chips or hot tortillas.  I like to have multiple dishes ready to go that I can pop in the oven as needed, serving hot dips without spending the whole day in the kitchen.  Check out the video here for easy to follow steps from Mama Carol herself.
Margarita Bar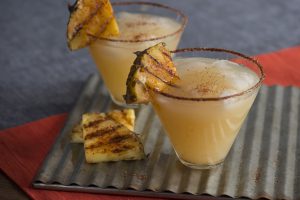 No big game fiesta is complete without a margarita bar. I like to pre-mix what I can and allow people to serve themselves throughout the day over ice. Cha Cha's Perfect Margarita is a classic choice and loved by all. For those looking for a little sweet heat, I offer the Grilled Pineapple Chile Margarita, serving up pre-grilled pineapple wedges as a garnish on the side.  Don't forget to have a station for the rims of glasses, having lime wedges, chile and salt at the ready for guests to make their own.
No matter who wins or loses the big game, we'll all leave with full stomachs and pure tortilla joy. Share images of your favorite snacks and drinks for the big game featuring Mi Rancho Tortillas and share it with us on Facebook, Instagram, and Twitter.