Alexa Shields |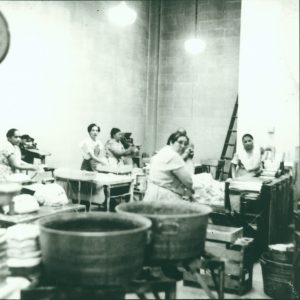 After 80 years in business, Mi Rancho knows a thing or two about making tortillas. While much has changed about our company throughout its lifetime, one thing has remained constant – Mi Rancho continues to maintain their passion for the craft of making tortillas. Despite employing modern equipment and baking techniques, we continue to follow our ancient family recipes and the process of how we create our masa to make sure each tortilla meets our high standards to make delicious, premium tortillas that elicit pure tortilla joy in every bite.
Mi Rancho is most widely known throughout the industry for our corn tortillas, which come from fresh masa made with whole kernel corn that we cook according to the nixtamalization process. While this process isn't unique to Mi Rancho, it is rare to find in today's tortilla market as most corn tortillas are made from corn, flour, and water. Why does Mi Rancho remain steadfast in following this process?  We feel strongly that by employing this process, nixtamalized whole kernel corn results in masa and ultimately a tortilla that is unique in texture and true corn flavor. Check out the video below for an examination of Nixtamalization: The Art of Cooking Corn.
How do we create our masa? Every day we cook many large batches of non-GMO whole kernel corn, sourced from the Sacramento Valley in California, in mineral lime and water for 45 minutes to an hour. We then steep it for 10-12 hours to allow the lime to break down the outer hard shell, or pericarp, and the water to penetrate the kernel. The cooked corn, or nixtamal, is then washed or rinsed for chip tortillas or left with the skin and nejayo for table corn tortillas. We then grind the corn using hand-carved lava stones into a fine or coarsely ground masa, with the texture varying depending on the intended use of the masa.
Nixtamalization has more benefits than simply producing a delicious and masa. Cooking the corn with the mineral lime in a high alkaline solution helps to release the bound niacin, making it available for absorption into the body.
Our Farm to Joy process follows 5 simple steps to create delicious corn tortillas: Sourcing, Cooking Grinding, Baking and finally Joy.
Mi Rancho's fresh masa is used to make corn tortillas, intended for table use that are ideal for tacos and enchiladas, and corn tortillas that are ready to fry for chips, taquitos and tostadas.  We also sell our fresh masa to local restaurants who choose to make their own tortillas or homemade sopes. Prepared masa contains fresh corn masa, spices and shortening that is ready to make for tamales at restaurants. Mi Rancho also sells directly to consumers at select retail locations only available around the holidays.
Staying true to our rich heritage and ancient methods of creating masa and producing corn tortillas is an integral part of our identity and culture. We are proud to craft tortillas that we want to share with the world, bringing Mi Rancho tortillas to restaurants and homes throughout the country. Check out our store locator to find where you can purchase Mi Rancho Organic Corn Tortillas, our original retail product which hit stores in 2010.