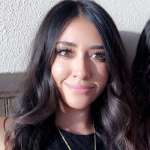 Scarlett Palmer |
National Margarita Day sounds like the perfect reason to celebrate this February. Tequila, salt and lime are the perfect ingredients to warm up this winter and with the weather starting to warm up a tad bit, imagining yourself on a tropical island getaway won't be difficult with a margarita in hand.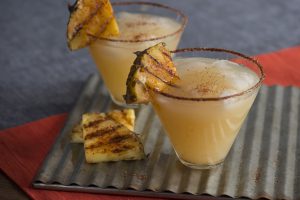 Grilled Pineapple Chile Margarita
Transport yourself to a beach chair and sip on this Margarita. Pineapple juice and tequila come together to create a spicy and sweet drink that will impress all your friends this Margarita Day. Grill Pineapple wedges with chile salt for an added wow factor. Pair this margarita with one of my favorites, Sweet Pork Tacos with Grilled Pineapple Salsa. These tacos are made with pork that has been slow cooked to perfection for 8 hours and marinated with the perfect ingredients to really bring out all the yummy flavors of the pork. Mi Rancho's Non-GMO Cornflowers Tortillas are slightly charred and topped with fresh Pineapple Salsa. The Pineapple Salsa is made with grilled jalapeños, red pepper and red onion will help to tie in all the delicious flavors of the Pineapple Margarita. You have everything you need with this sweet and spicy combination. You won't regret this pairing!
Although a spin off on a margarita, this drink is still just as good after all anything's good if it involves tequila, right? This drink is simple and quick to make, just blend your strawberries with simple syrup and lemon juice and combine with water ice and tequila. Make sure you double the ingredients if you are having friends and family over as this drink is bound to keep you reaching for your next cup. Pair this drink with my Chile Roasted Cauliflower Tacos to balance out the sweet with some heat. These vegan tacos are packed with flavor and served on Mi Rancho's Non-GMO Soft Taco Flour Tortillas.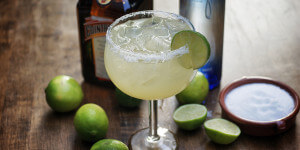 Cha Cha's Latin Kitchen located in Brea and Irvine, CA makes this simple but great margarita. If you're looking for a classic margarita then this is the one for you. It features classic ingredients like tequila blanco, sweet and sour, Cointreau liqueur and agave nectar to add sweetness. It's a refreshing drink that can easily be paired with any dish. In my opinion, Margaritas go best with tacos. Try pairing it with a classic carne asada taco. Carol's Carne Asada and Charred Vegetable Tacos are made with Skirt Steak that is grilled until it's juicy and tender on Mi Rancho's Simply Authentic Fajita Flour Tortillas. It's the perfect combination to celebrate this great day.
I hope that these Margarita options and taco pairings will get you excited to celebrate National Margarita Day. Check out our store locator to find a store near you carrying Mi Rancho tortillas and let's all raise a glass to Pure Tortilla Joy and National Margarita Day!