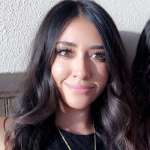 Scarlett Palmer |
Burritos and tacos are two of my favorite Mexican dishes that I'll never get tired of. The best thing about burritos are that there are so many different ways to fill them. The tortilla used for your burrito is just as important as the inside, especially when making the perfect burritos for the spring. That's why I'll only ever make my burritos using my favorite tortillas, Mi Rancho tortillas. Keep reading to get a taste of my favorite burrito recipes made using silky, soft and buttery tortillas to keep all of your favorite fillings nicely wrapped and secured.
Kick your morning off with this hearty burrito wrapped in Mi Rancho's Simply Authentic Burrito Flour Tortillas. Flavorful veggies like cremini mushrooms, bell peppers, and white onions come together to form a burrito that will keep you full and energetic all morning long. Each bite will burst into flavor with fluffy eggs and creamy potatoes.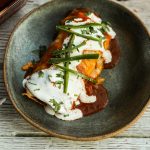 Smothered Chile Colorado Burritos 
These burritos are one of my all-time favorites. Filled with melt in your mouth slow-cooked beef and covered in spicy Chile Colorado Sauce.  My recipe includes refried beans and Mexican rice all on Mi Rancho's Simply Authentic Burrito Flour Tortillas. I like to put each of my assembled burritos into an oven dish and bake it for a few minutes in Chile Colorado Sauce. I also like to top it with some Monterrey Jack cheese and bake it until the cheese is bubbling and golden brown. 
These mini burritos are the perfect size for small hands. These burritos are simply made using beans and cheese while discreetly incorporating vegetables that even the pickiest of children won't notice. To do so just mash steamed carrots into the beans. These burritos can be enjoyed by groups of all ages. Since they're small, I recommend making plenty to go around for everyone. Mi Rancho's Simply Authentic Soft Taco Flour Tortillas are the perfect tortillas to hold everything together. 
Mi Rancho's Simply Authentic Burrito Flour Tortillas are the perfect tortillas for this burrito. This burrito is made for all the vegans and vegetarians out there and it can be made in only 30 minutes. In this recipe, Edgar teaches us how to put vegan chorizo to good use. He incorporates onions and broccoli seamlessly. These burritos are not only delicious but are protein-packed, filled with deliciousness and wrapped with pure tortilla joy.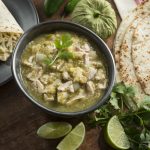 Mama Ofi's Chile Verde Burrito
Mama Ofi's famous chile verde burritos had people lined out the front door at the original Mi Rancho. Tomatillos and Mama Ofi's Refried Beans are the stars of the show in this burrito. In this recipe, tender shredded pork is simmered in a tomatillo-chile sauce made from fresh tomatillos. To assemble the perfect burrito, spread about 2 tablespoons of refried beans on to Mi Rancho's Simply Authentic Burrito Flour Tortillas.
 Add some pure tortilla joy to your next burrito! Check out our store locator to pick up some pure tortilla joy near you. Don't forget to follow us on Instagram, Twitter, Facebook, and Pinterest for more recipes.