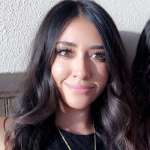 Scarlett Palmer |
The weather is starting to get warmer and the sun is brighter! With spring in the air, here are some tasty recipes to get you through the day the only way we know how, the Mi Rancho way, using Mi Rancho tortillas!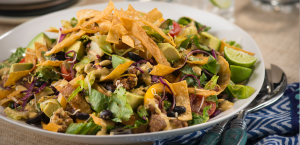 Taco Salad with Chipotle Lime Ranch
If you love tacos as much as I do, then you know that they may not always be the healthiest of meals. At Mi Rancho, we appreciate any opportunity to turn anything into something that resembles a taco! If you love tacos but don't want the extra calories, then this salad is perfect for you! This salad incorporates ground beef, black beans, avocado, olives and crispy Mi Rancho Organic THINcredibles cut and fried into strips all dressed in a yummy tangy Chipotle Lime Ranch dressing! In my opinion, what makes this salad is definitely the crunch factor added by the THINcredibles and the tangy lime ranch! To make the dressing, simply add all dressing ingredients in a blender and blend until all of the elements are well combined and the dressing is smooth. To make the tasty strips, follow Mama Carols step-by-step instructions in the video below.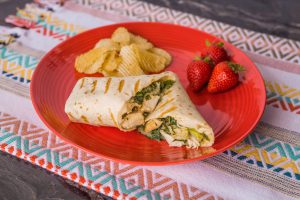 Grilled Romaine Chicken Wraps
In this recipe, the chicken and hearts of romaine lettuce are all grilled for a nice smoky flavor. Once these are removed from the grill, cut the chicken into bitesize pieces and chop the hearts of romaine into 1/3-inch strips, working all the way to the end and discarding the hard core. Then make 1-2 vertical chops to create bitesize pieces of lettuce tossing it into a bowl with Caesar dressing until all is well coated. Mama Carol's yummy grilled romaine chicken Caesar wraps are made on Mi Rancho's Simply Authentic Burrito Flour Tortillas. Lay out your tortilla flat, add ¼ of salad and ¼ of chicken breast to the center of the tortilla. Then grate fresh parmesan cheese generously over the salad and chicken. Place your folded wrap onto a hot grill for 30-40 seconds on each side until the tortilla has crisp grill marks.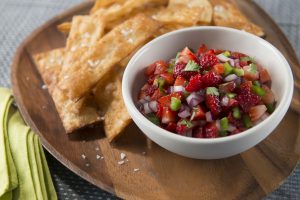 Strawberry Jalapeno Salsa
This salsa is super yummy and refreshing, perfect for a spring time snack! Making this salsa is easy. First, finely dice the strawberries, jalapenos and red onion into bite-sized pieces, then in a medium bowl, toss everything together with cilantro and lime juice. Accompany this salsa with flour tortilla chips, made with Mi Rancho's Organic Flour Tortilla chips. To make these, simply cut the flour tortillas into triangles or strips then fry in 350˚F in canola oil until they are crisp. Remove and then salt lightly.

Ice Cream Sundaes in Cinnamon Sugar Tortilla Bowl
End your spring day with a sweet and fun treat. Mi Rancho's Small Organic Flour tortillas are perfect to make homemade flaky dessert bowls coated in cinnamon sugar. To make these fun bowls, lightly brush your tortilla with canola oil. Then invert a muffin tin and press in between the cups to form a bowl. Then, bake until each are golden brown for about 10 minutes. Finally, while they are still warm, brush with melted butter and coat the tortilla bowl generously with cinnamon sugar (inside and outside of the bowl); then allow to cool completely. Fill your bowl with your favorite ice cream combination. Try my favorite combination, vanilla bean ice cream topped with hot caramel sauce, cinnamon and toasted coconut.
Your day is set with yummy and refreshing recipes that are just perfect as the weather starts to get warmer. Don't forget to share your thoughts with us on Instagram, Facebook, Pinterest and Twitter!