Cooking with Mi Rancho
Experience pure tortilla joy in your kitchen
TIPS & TRICKS
What is the best way to enjoy Mi Rancho products? Here are some tips and tricks that we have learned over the years that will make your tortillas taste fresh any time!
The Best Ways to Heat Tortillas
Have you ever wondered how to heat the perfect tortilla to get that fresh off-the-line taste? Find out the best methods to heat your Mi Rancho tortillas.
Method #1: Over an open flame

Simply turn on your gas stove and adjust the heat to medium low. Using tongs, take one end of the tortilla and place it directly over the flame. Allow the tortilla to lay over the flame anywhere from 15 to 30 seconds, then flip over on the other side. Tip: You'll know your tortilla is heated through once it starts to bubble.

Method #2: On a hot iron cast skillet (comal)

Add some butter to your hot skillet (tortillas will turn out a little toastier than if heated without the butter).
Once butter is melted, place tortillas on the skillet and allow them to heat for about 30 seconds on each side.
Tip: Our favorite way is to heat corn tortillas dry, and add a small amount of butter when heating flour tortillas.

Method #3: Wrapped in an oven

Preheat your oven to 350˚F.
Wrap a stack of about five tortillas in aluminum foil and place the package in the oven for 15 to 20 minutes until they are heated through.
Tip: While this method takes a tad bit longer, it will allow you to heat up plenty of tortillas at once!
How to Freeze Tortillas
Freezing corn tortillas is a great option for those of you who do not live close to a grocery store that carries Mi Rancho Organic Corn Tortillas. When you can find them, stock up and load your freezer with these golden gems and eat them when you're ready.
Freezing Tortillas
If the product is unopened, leave it that way. If you've already opened the package, leave the product in the package, press out any additional air, and seal well.
Place the tortilla package inside of a zip-lock bag (our packaging is not designed for freezing).
Clear a section within your freezer so that you can lay the tortillas down flat.
The product should last about six months in the freezer.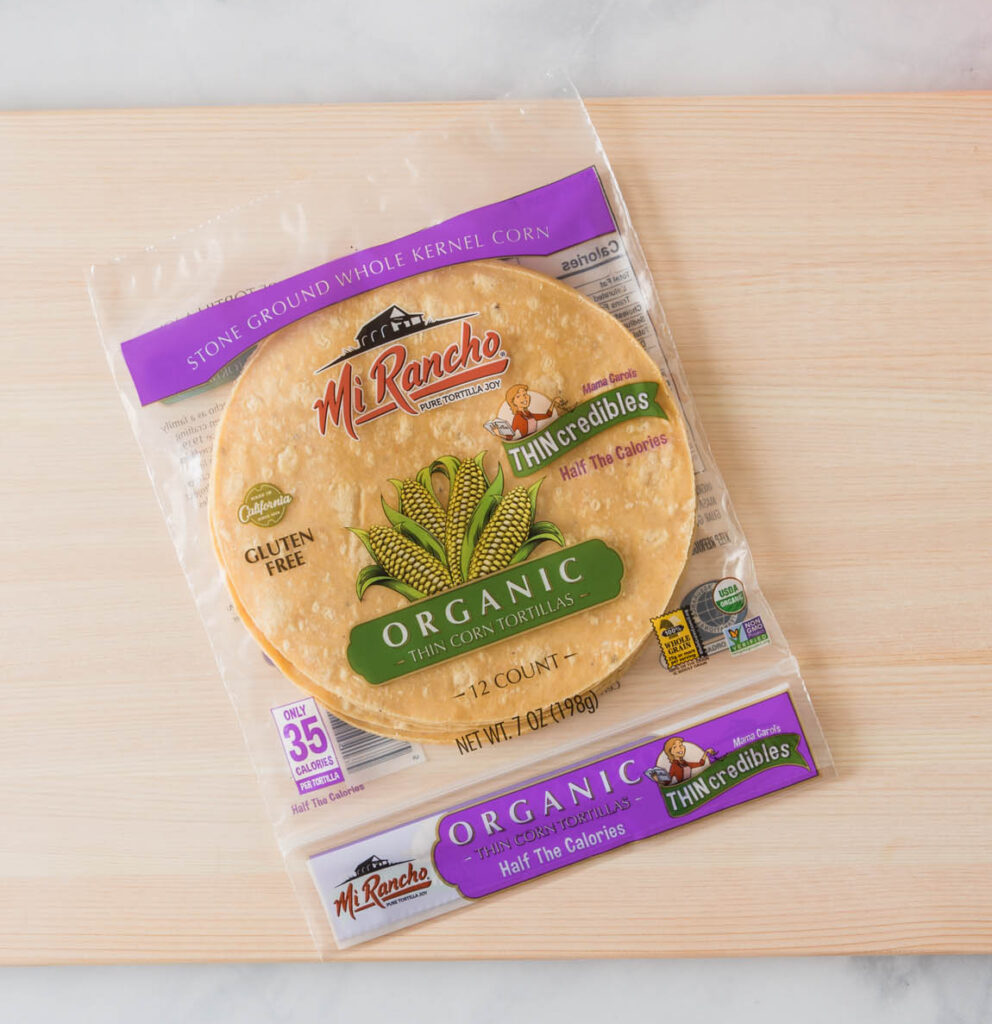 Thawing Tortillas
Keep the tortilla frozen until you're ready to eat it. Don't refreeze.
24 hours before you're ready to use the tortillas, move the package, or amount of tortillas you plan to use from the freezer to the refrigerator. You want to gradually thaw the tortillas out rather than shocking them from the freezer to room temperature.
30 minutes before use, place the package at room temperature.
Follow normal heating instructions for preparation or before serving.
Do not place the frozen tortillas in a microwave to thaw out quickly, as it will cause the tortillas to stick together and become brittle.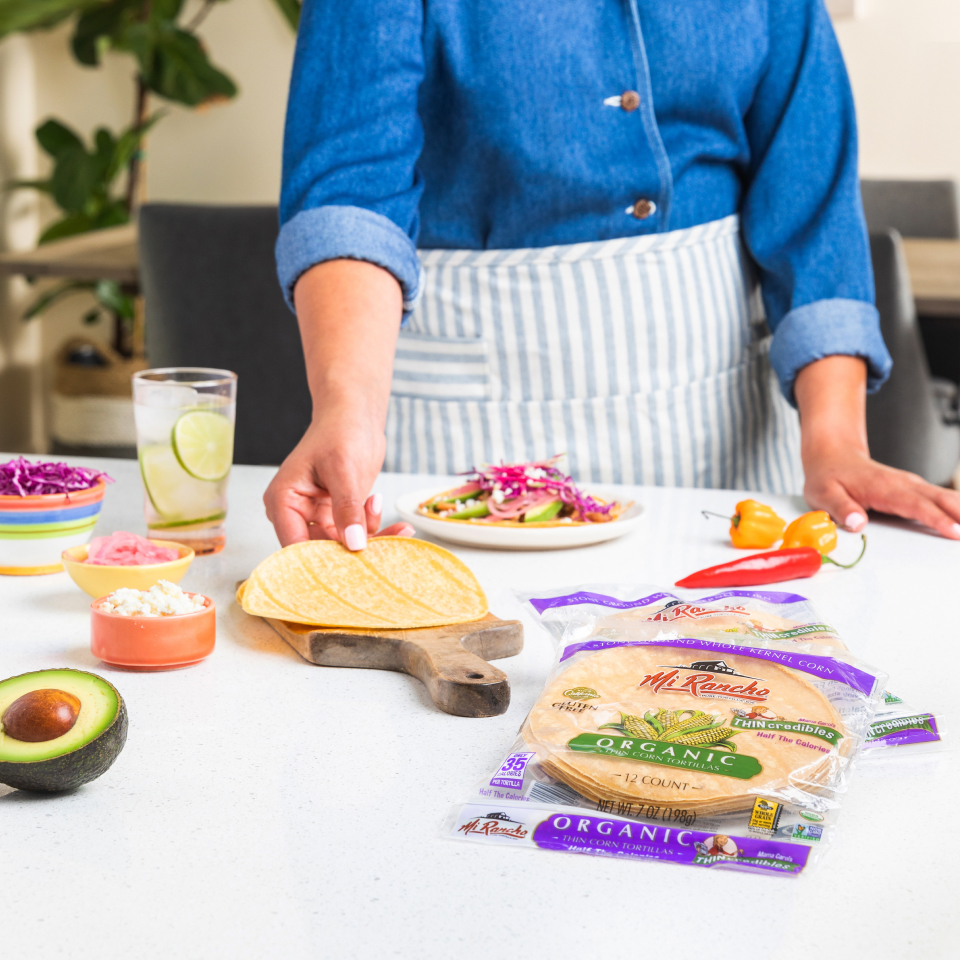 When to Use Corn vs. Flour Tortillas
Tortillas are formulated according to specific preparations and each type of tortilla performs differently in the same recipe. Mi Rancho makes a variety of corn and flour tortillas, all made with our authentic old-world process.
Corn Tortillas
Ideal for tacos, tostadas, or table use
Cooking tips & tricks:
It's essential to warm corn tortillas thoroughly before using so they won't tear during preparation.

When making enchiladas, dipping table corn tortillas in hot sauce or frying them in oil can make them even more pliable and hold up to the high heat in the oven.

Cut corn tortillas up and fry them to create homemade tortilla chips. Or fry them whole to create delicious tostadas!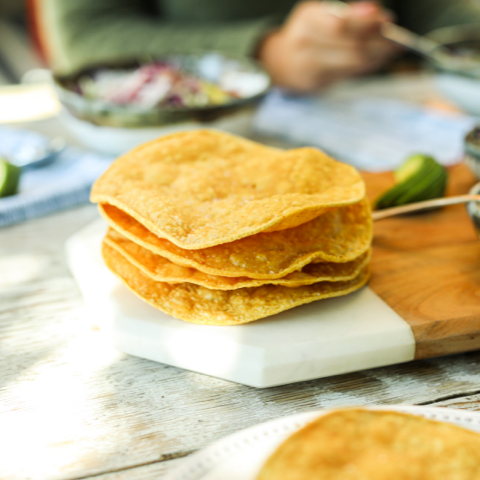 Flour Tortilla
Ideal for soft tacos, burritos, or enchiladas
Cooking tips & tricks:
Although it's best to heat the tortilla first, you can get by with using a cold tortilla when cooking.
Flour tortillas are versatile, making them great in other non-traditional dishes, such as pizza or rustic tortilla crackers.
Bake flour tortillas in a shell pan to create the perfect tortilla bowl for a taco salad!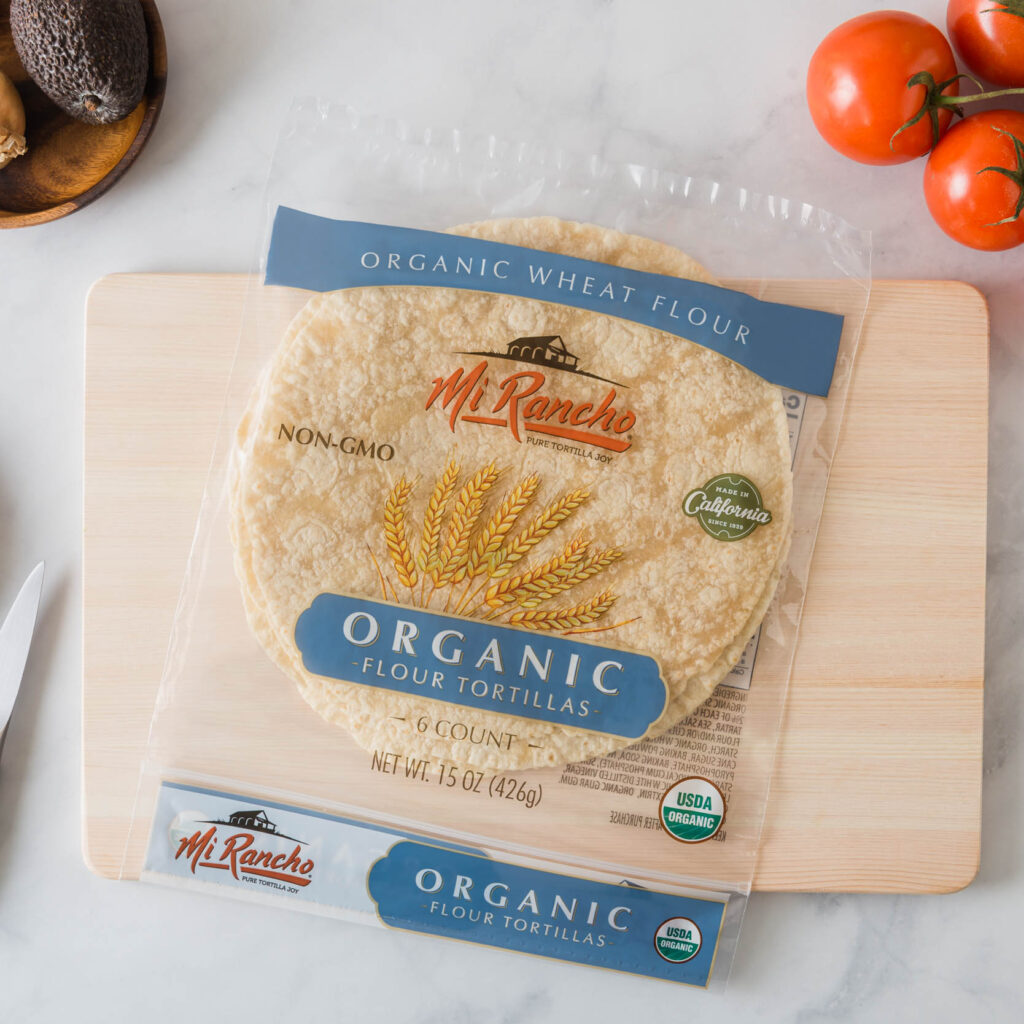 Brand Partnerships
Let's cook something up