THE PURE JOY OF FAMILY, FOOD AND GOOD FRIENDS.
When Mi Rancho® first opened on Seventh Street in Oakland, CA in 1939, it was the only Mexican grocery store in the area, drawing people from all around to purchase fresh hand-made tortillas, hot food and goods from the Mexican bakery for their families. Robert Berber Sr. and Robert Berber Jr. purchased Mi Rancho® in 1954, seeing the potential to expand beyond the grocery store with the tortilla line already in the back.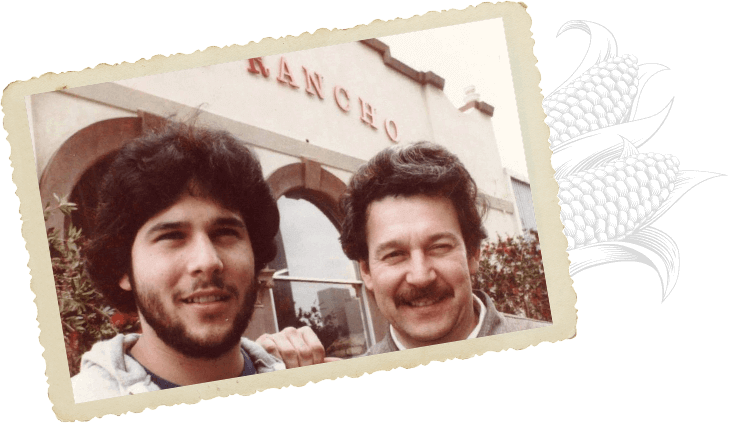 Manuel and Robert Berber Jr. in front of the original #MiRancho building circa 1981! #familyphotos #keepitinthefamily #puretortillajoy
Hard work and dedication helped Mi Rancho become a fixture in Oakland as the best place to find Mexican chiles, spices and fresh tortillas. When Ofelia Berber began serving lunch, Mi Rancho became a lunch-time hotspot with lines of people wrapped around the block.
Mi Rancho continued to grow once they began supplying tortillas and chips to local restaurants, expanding beyond the walls of the Seventh Street grocery store. It soon became clear that the future of Mi Rancho was as a premium tortilla manufacturer. In 1992, Manuel Berber took over the family business as owner and president. Under his leadership, Mi Rancho expanded not just within California, but throughout the nation and internationally. In 2010, Mi Rancho sought to make a super-premium tortilla available to the masses, launching a line of shelf-stable organic and simply authentic tortillas. Today Mi Rancho produces over 4.5 million tortillas a day; roughly 1.3 billion tortillas each year.
"FOR ALL OF US, FAMILY AND FOOD GO HAND IN HAND"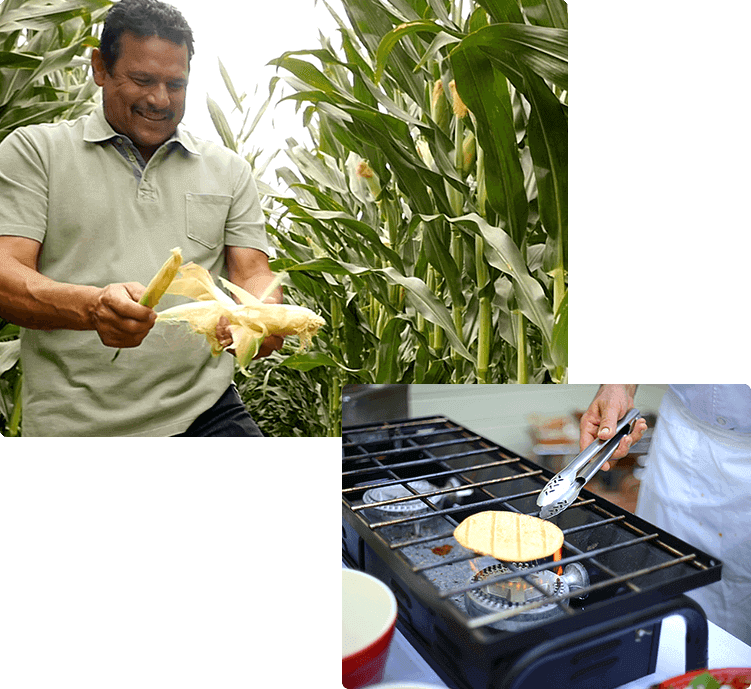 Mi Rancho® has been baking the world's best tasting tortillas for over 75 years.
Manuel Berber shares that, "The success of Mi Rancho® has always meant that we could provide for our family. For all of us, family and food go hand in hand, with each one needing the other to prosper. I'm proud of where we are today and I know that my father was proud to see how successful we became."
The Berber family is proud to employ so many people in the Bay Area. They consider each employee a member of the family, as they are the true measure of Mi Rancho's success. Every member of the Mi Rancho team works hard to contribute positively to our customers' business success and consumers dining experience.
Despite the growth, the Berber family has maintained their great passion for the craft of making tortillas and have become the industry leader in creativity and innovation. Mi Rancho combines old world authenticity with new world innovation to produce the world's best tasting tortillas. Mi Rancho's modern baking techniques allow us to embrace our ancient family recipes and processes to bake products that can only be described as pure tortilla joy.