Ingredients
Ingredients for Pepper Jack and Chard Quesadillas:
2 bunches Chard
6 tablespoons Golden Raisins
24 ounces Jalapeño or Pepper Jack cheese
2 tablespoons Olive Oil, plus more for brushing the tortillas
2 cloves Garlic, minced
2 teaspoons Sherry Wine Vinegar
Sea Salt
Ingredients for Avocado Crema:
2 tablespoon freshly squeezed Lime Juice
2 Avocados
2/3 cup Water
2 cloves Garlic, minced
1 teaspoon Sea Salt
Instructions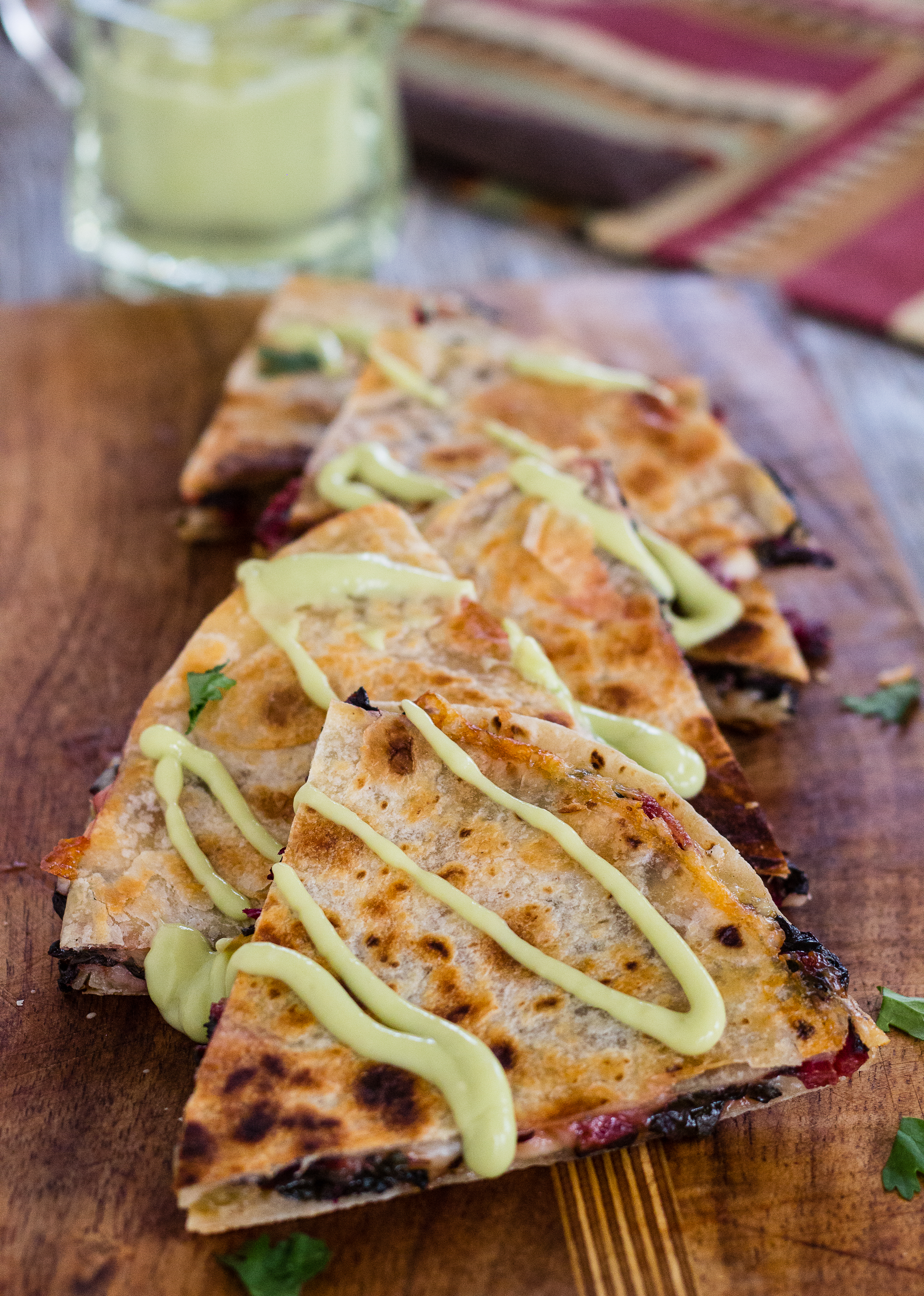 Strip the chard leaves from the stems, by hand or with a knife. If the stems are wide, cut them lengthwise about ½-inch thick.
Chop the stems into pieces about ¼-inch thick. Roughly cut the leaves into 2-inch pieces. (They can still be wet from washing.)
Soften and plump the raisins in a small bowl with some water.
Heat the olive oil a medium skillet on medium flame. Add the chard stems and cook about 5 minutes. Stir in the garlic.
Add the chard leaves and sprinkle with salt. Cover the pan and cook until the leaves are very soft, 6 to 8 minutes.
Remove the cover and cook, stirring occasionally, until most of the extra liquid evaporates and the leaves have seriously shrunk.
Splash the pan with the vinegar and season with salt to taste.
Avocado Crema:
Puree everything together in a blender.
Assemble the quesadillas:
Lightly brush one side of a tortilla with olive oil.
Place oil side down in a skillet.
Sprinkle evenly with a quarter of the cheese.
Scatter half of the chard over the cheese.
Drain the raisins, distribute half of them evenly over the cheese and chard.
Sprinkle with another quarter of the cheese. Top with a tortilla and brush lightly with olive oil.
Cook until the bottoms are golden, 3 or 4 minutes. Gently press down the top with a spatula.
Gently flip the quesadilla over to brown the other side. Keep warm and repeat to make the second tortilla.
Transfer to a cutting board. Cut each tortilla into 8 wedges.
(If you let the quesadillas cool a few minutes they will be easier to cut.)
Serve with Avocado Crema or a favorite salsa.
---
From Letty Flatt
Do you agree that Cinco de Mayo in the U.S. is a marketing ploy, an excuse for bars and restaurants to sell more margaritas and beer? No matter, let's join the fiesta. Make tortilla sandwiches of melted spiced cheese, wilted red chard, and mouthwatering raisins!
Besides being delicious healthy appetizers, chard and pepper jack quesadillas can become a simple dinner. We don't need a holiday at our house, quesadillas, along with a crisp green salad, show up on our dinner table all year long.
Mexican food and merry-making–how come we get all excited about a Mexican holiday in May? Why Cinco de Mayo? Here's an abbreviated reasoning.
In 1862 the U.S. was in Civil War, North versus South, Union versus Confederates. France was aiding Confederate interests with funds and ammunition. Problem was, at the same time, they were at war with Mexico.
In Mexico, on Cinco de Mayo 1862, the Mexican army soundly defeated the French. The French retreated to lick wounds and replenish resources, while the U.S. Union amassed the powerful army that a year later won the decisive Battle of Gettysburg. Thus, France helped end our Civil War and gave Mexico its Cinco de Mayo holiday. (Please don't do battle with me for condensing history.)
Chard and pepper Jack quesadillas with avocado cream are a tasty way to celebrate Mexico's Cinco de Mayo. Tequila and beer optional. ¡Viva Mexico!
Chard and Pepper Jack Quesadillas recipe notes:
Serve chard and pepper jack quesadillas with Jicama Fruit Salad with Cilantro and Lime. You might want to add brilliant red Hibiscus Margaritas to the menu too.
A healthful addition to tortillas and melted cheese, chard is loaded with vitamins C and A, and iron. The bright red stems add bulk, crunch and color, just as they do for Rainbow Chard Frittata. (Yes, chard is my favorite green leafy.)
Golden raisins and chard paired together show up in quite a few Mediterranean cuisines. Sprinkling the concentrated grape into chard-filled quesadillas is simply classic flavor logic.
A splash of vinegar brightens all cooked greens. Sherry vinegar is a good choice with the chard and raisins, though any light vinegar will do.
This savory spicy sweet filling will carry about any flour tortilla you choose, including gluten-free ones. I favor Mi Rancho organic flour tortillas, but I'm not sure if you can find them beyond the western US states. Try natural food stores and Trader Joe's for the best choices.
Avocado crema is simply avocado and lime juice blended with garlic and salt. For a little more kick, throw in ½ of a jalapeño pepper, the seeds and veins removed.