Ingredients
10 ounces cherry tomatoes, chopped small
2 tablespoons fresh cilantro, chopped
1 medium jalapeño pepper, chopped small
2 teaspoons red onion, chopped small
1 tablespoon fresh lime juice
Salt
Freshly ground black pepper
12 large eggs, scrambled
1 tablespoon unsalted butter
10 ounces cheddar cheese, grated
Quick & Easy Corn Salsa
Ingredients for Quick & Easy Corn Salsa:
1 pound of frozen (thawed) corn
1 small can of diced mild green chiles
1 cup of diced cherry tomatoes
2 teaspoons of fresh cilantro, chopped
2 dashes of Tabasco Chipotle
Instructions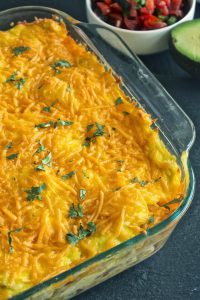 In a medium bowl, add the cherry tomatoes, cilantro, jalapeño, red onion, and mix. Add the lime juice and a dash of salt and pepper to taste. Mix well and set aside for the flavors to combine.
In a mixing bowl, whisk the eggs, salt and pepper.
Heat a skillet over medium low heat and add the butter. When the butter is melted pour in the beaten eggs and stir. Continue to stir the eggs until they are at the required doneness. The eggs should be slightly under done because they will be baked in the oven. Remove the eggs from the heat.
Take a 8 x 8 casserole dish and butter the bottom. Take a flour tortilla and line the bottom of the dish. Make sure the entire area is covered. Break the tortillas if needed to get an even coverage.
Spread ⅓ of the eggs over the tortillas.
Sprinkle with ⅓ of the grated cheddar.
Add ⅓ of the corn salsa.*
Add another layer of tortilla.
Spread another ⅓ of the eggs.
Sprinkle with another ⅓ of the cheddar.
Spread ⅓ of the corn salsa.
Sprinkle with cheddar.
Add the last layer of tortilla, the rest of the eggs, the rest of the corn and finish so the top layer is cheddar cheese.
Bake in the oven for 20 minutes or until the cheese is melted and bubbly. Allow to cool before cutting so it can set and makes it easier to slice. Serve with the tomato salsa and your favorite sides.
* Quick & Easy Corn Salsa:
Combine all ingredients for the salsa in a bowl and mix to combine.