RECIPE
Sweet Potato Bacon Tostadas
The Healthe Plate
A wonderful, tasty breakfast full of protein and flavor! These sweet potato hash, bacon & egg tostadas are absolutely delicious and only take a few minutes to whip up.
Ingredients
1 sweet potato
4 tsps. butter
¼ cup chicken stock
4 slices applewood smoked bacon, cooked and crumbled
1 cup onion, chopped
2 tsp. fresh rosemary
4 tbsps. fire roasted sweet bell peppers
2 free range/cage free eggs
2 tablespoon of almond/coconut milk
4 tbsps. cotija cheese
2 tbsp. cilantro
Instructions
Cook bacon until crisp, let cool, crumble, set aside.
Cook sweet potato for 4-5 minutes in microwave or until tender. Cool, cut in half, peel and dice.
Heat the butter in medium fry pan and add onions, sweet potatoes, sweet peppers, rosemary, and salt and pepper to taste. Cook for 5 minutes. Transfer to a plate, keep warm.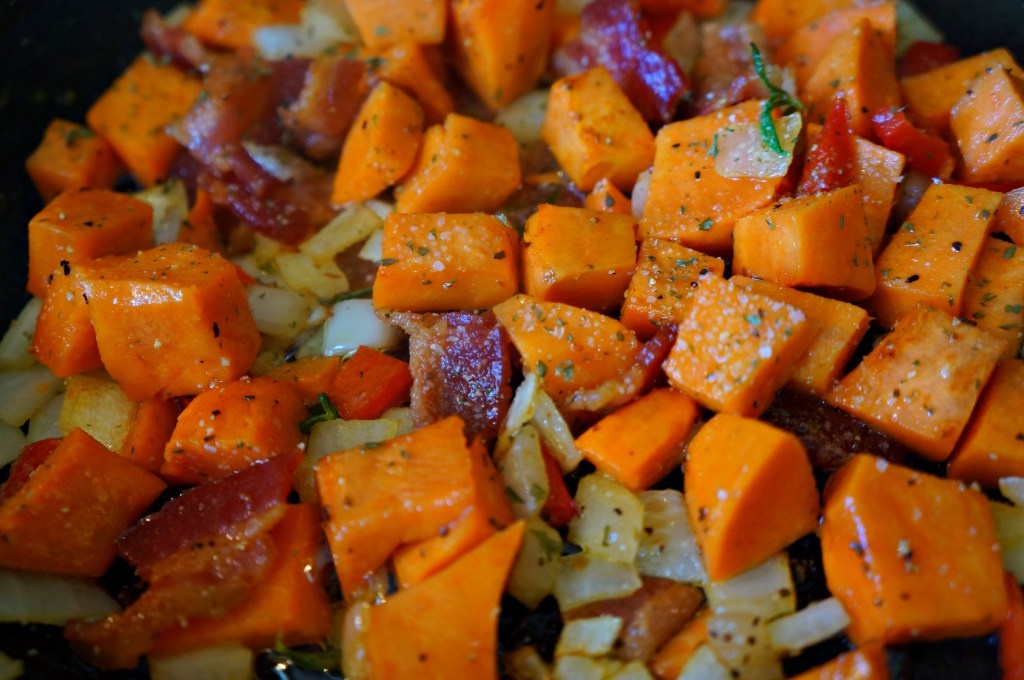 Whisk the egg with the milk and cook in remaining oil from hash until scrambled, about 2 minutes. Transfer to plate.
Add canola oil to pan and sauté tortillas until crisp and golden, about 2 minutes on each side. Transfer to paper towel to remove excess oil.
Place ½ scrambled egg, and ½ of the hash on each tortilla. Add 1 tbsp. of cheese on each tostada. Top with cilantro.
Serve and enjoy!